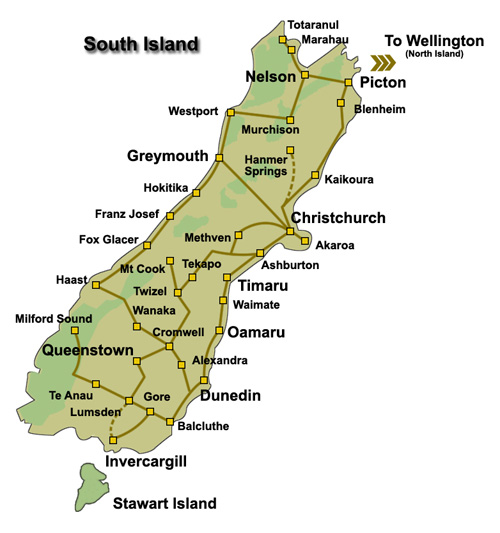 The South Island (Māori: Te Wai Pounamu) is the larger of the two major islands of New Zealand, the other being the more populous North Island. It is bordered to the north by Cook Strait, to the west by the Tasman Sea, to the south and east by the Pacific Ocean.

The territory of the South Island covers 151,215 square kilometres (58,384 sq mi) and is influenced by temperate climate.
The South Island is often called "The Mainland". Today this expression is used humorously, although still with pride by "Mainlanders", since while it is a somewhat larger landmass than the North Island, only about a quarter of New Zealand's 4.5 million inhabitants live in the South Island.

However, in the early stages of European settlement of the country, the South Island was pre-eminent, with the majority of the European population and wealth focused there due to gold rushes.

Compared to the more populated and multi-ethnic North Island, the South Island has a smaller, more homogeneous resident population of 1,058,500 (June 2014 estimate).

The South Island, with an area of 151,215 km² (58,093 square miles), is the largest land mass of New Zealand; it contains about one quarter of the New Zealand population and is the world's 12th-largest island.

It is divided along its length by the Southern Alps, the highest peak of which is Aoraki/Mount Cook at 3754 metres (12,316 ft). There are eighteen peaks of more than 3000 metres (9800 ft) in the South Island.

The east side of the island is home to the Canterbury Plains while the West Coast is famous for its rough coastlines, very high proportion of native bush and Fox and Franz Josef Glaciers.

The South Island is know for scenic beauty and popular tourist activities include sightseeing, adventure tourism, such as glacier climbing and Bungee jumping, tramping (hiking), kayaking, and camping.

Numerous walking and hiking paths such as the Routeburn Track and the Milford Track having huge international recognition.
An increase in direct international flights to Christchurch, Dunedin and Queenstown has boosted the number of overseas tourists.
Fiordland National Park, Abel Tasman National Park, Westland National Park, Aoraki/Mount Cook National Park, Queenstown, Kaikoura and the Marlborough Sounds are regarded as the main tourism destinations in the South Island and amongst the Top 10 destinations in New Zealand.

The dramatic landscape of the South Island has made it a popular location for the production of several films, including the Lord of the Rings trilogy and the The Chronicles of Narnia: The Lion, The Witch, and the Wardrobe.