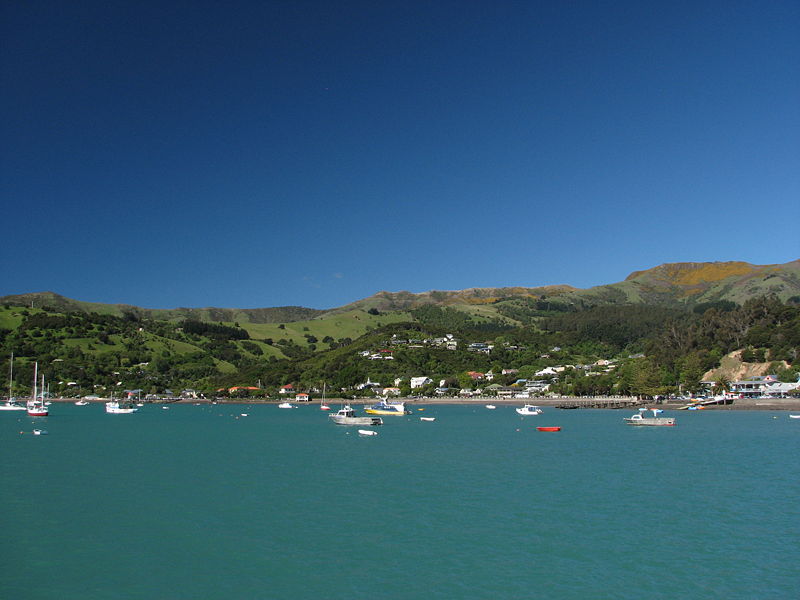 Akaroa is a village (Pop 570) on Banks Peninsula in the Canterbury region situated within a harbour of the same name—the name Akaroa is Kāi Tahu Māori for 'Long Harbour'.
Just 75 kilometres from the city of Christchurch, New Zealand, Akaroa is a historic French and British settlement nestled in the heart of an ancient volcano. Explore the village with its colonial architecture, craft stores, and cafés.

Set in a beautiful, sheltered harbour and overlooked by craggy volcanic hills, Akaroa is a popular resort village and in summer the temporary population can reach 7,000 which places stress on the water supply, which is entirely dependent upon rainfall on the hills.
Relax in the sun at French Bay, or find a secluded beach of your own in one of the neighbouring bays. Go cruising on the beautiful Akaroa harbour, you can choose from a variety of cruises including sailing around the harbour.

Many Hector's Dolphins may be found within Akaroa harbour, and 'swim with the dolphins' boat tours are a major tourist attraction.

Enjoy Akaroa and the harbour for the week, your weekend, or just one day there's an Akaroa Escape to suit your mood.

Akaroa is served by various daily bus/coach operators providing regular daily services from Christchurch.

There are no passenger train services from Akaroa to Christchurch.