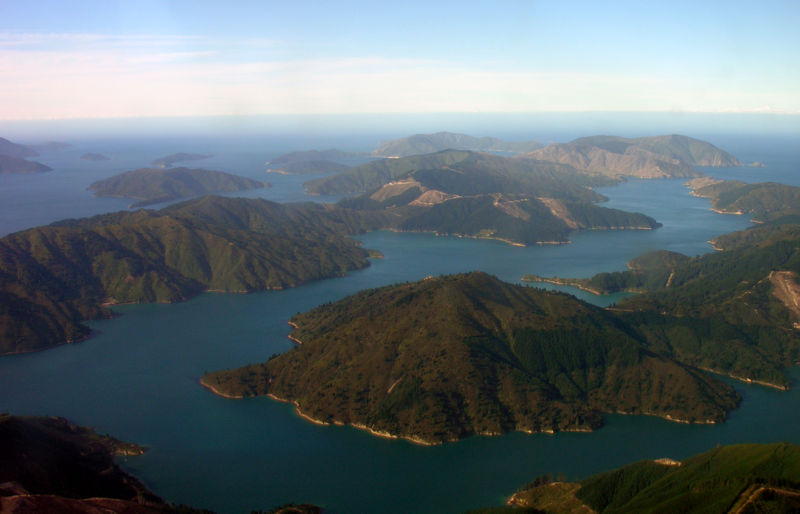 Marlborough Sounds is sunken valleys that are home to all kinds of wonderful bird and sea life, including terns, shags, blue penguins, dolphins and seals.

The Marlborough Sounds is an extensive network of sea-drowned, sparsely populated, steep, wooded hill valleys with small quiet bays, being a natural scenic wonder unparalleled in New Zealand.

Reaching out into the Pacific Ocean like the fingers of a welcoming hand, the Marlborough Sounds area is made up of three main bodies of water—the Queen Charlotte, Kenepuru and Pelorus Sounds and between them, is the isolate the hills of Arapawa Island from the mainland and other islands including D'Urville Island, located near Cook Strait.

Bordered by forested hills rising almost vertically from the water's edge, the Marlborough Sounds is a true scenic highlight and is easily explored from either Picton or Havelock. Sail, paddle, kayak or motor through this picturesque maritime area.

The Marlborough Sounds is also known for the Queen Charlotte Track - a 67 kilometre track passes through lush coastal forest, around coves and inlets, and along skyline ridges offering breathtaking views of the Queen Charlotte and Kenepuru Sounds.

The main town in the Marlborough Sounds is Picton - located at the head of Queen Charlotte Sound, has a large port and is the northern terminus of the South Island's main railway and State Highway networks.

Picton is the administrative centre for the region and a hub for bus and coach services to and from Kaikoura, Nelson and Christchurch and Cook strait ferry services to and from Wellington.

Picton is also the terminus for the Coastal Pacific train service to and from Christchurch and Kaikoura.

Air New Zealand Link operates daily domestic flights from Wellington to Blenheim.