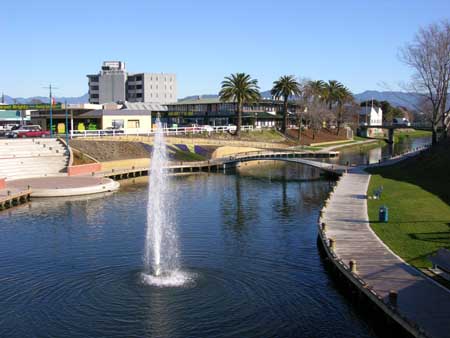 Located 312 kms north of Christchurch and 28kms south of Picton, Blenheim is one of the sunniest towns in New Zealand and is the commercial and administrative centre for the Marlborough region.
Located on the banks of the Taylor and Opawa Rivers, Blenheim with a population of 29,700, is the of New Zealand's wine industry as it enjoys one of New Zealand's sunniest climates, with hot, relatively dry summers and crisp winters.

Seymour Square and Pollard Park are two of the town's main attractions for walks and general tourism.

In a 15km radius of Blenheim the is a large range of wineries and boutique beer breweries that surrounds the town. Besides the wineries and beer breweries, there is extensive farming surrounding the Town.

Omaka Aerodrome, south of the town centre, is the Omaka Aviation Heritage Centre, that has a large collection of restored classic aircraft, with a large emphasis on aircraft of World War One, featuring Sir Peter Jackson's own collection of WW1 aircraft and artifacts.

The aerodrome is the setting for the two-yearly Classic Fighters Marlborough airshow, that is held biannually since 2001, with the last show held over the weekend of 4-5 April 2015.

The first weekend in February sees the festival "Blues, Brews and BBQ's", which comprises of Blues and Jazz music, food and a variety of Beer and wine. It starts at 12pm and ends at 7pm, and its located at the A and P park near Redwood Town.

From Blenheim travelling up the Wairau Valley, less than 1 hour drive from Blenheim is the Rainbow Skifield located in the Nelson Lakes National Park at St Arnauds.
Blenheim is served by regular daily inter-regional and long distance bus and coach services to and from Picton, Nelson, Kaikoura and Christchurch.

Air New Zealand link regular daily air services to Blenheim from Wellington and Christchurch.

There is no passenger train services from Blenheim to Nelson.