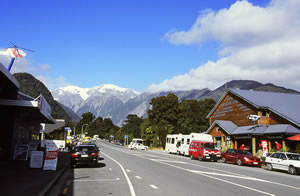 Located on the west coast of the South Island of New Zealand, 148 kms south of Greymouth and 25 Kms from Fox Glacier, Franz Josef is a small town with a population of 440.
Franz Josef town is 5 km from the Franz Josef Glacier terminal face. Its accessibility makes it a major tourist attraction and the reason why many people visit Franz Josef.

The 12 km long Franz Josef Glacier is one of New Zealand's most spectacular natural attractions, a remnant from the Ice Age which is one of South Westland's major draw card for visitors.

The town is also 20 minutes walk from the Westland National Park.

At Franz Josef there is a range of activities ranging from the walks on Franz Josef Glacier with a duration of 3 hours, bush walks, scenic helicopter flights of Mt Cook, Fox, Tasman and Franz Josef Glaciers, to name a few of the activities that are available.

Visitors to Franz Josef will find a small but comfortable township with a First Class hotel, a good selection of motel, hostel and motor camp accommodation and several restaurants.

Despite being in the wilderness, the town has all essential services including a good garage, a district nurse and Visitors Centre and Department of Conservation Office.

Franz Josef Glacier is served by daily inter-regional and long distance coach and bus services north to Nelson, Westport, Punakaiki, Greymouth, Fox Glacier and south to Wanaka and Queenstown.

There is no direct air service to Franz Josef Glacier. The nearest airport for air services from Christchurch is Hokitika.

There are no passenger train services from Franz Josef Glacier to Fox Glacier, Queenstown, Wanaka, Hokitika, Greymouth, Westport, Nelson or Christchurch except for combined bus and TranzAlpine train travel from Franz Josef Glacier to Christchurch.