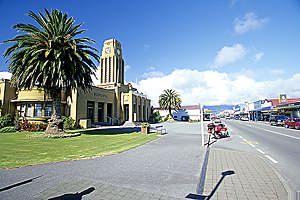 Westport (Pop: 4512) is a town on the West Coast region of the South Island of New Zealand. It is located on the northern bank and at the mouth of the Buller River, close by the prominent headland of Cape Foulwind.

It is connected via State Highway 6 with Greymouth, 100 kilometres to the south, and 232 kms of Nelson in the northeast, via the Buller Gorge.

The port town of Westport is the largest centre of the Northern West Coast and the perfect starting point for exploring the region's heritage and scenery.

Westport is the oldest of the coast's towns, established in 1861 as a single trading post beside the mouth of the Buller River to supply gold prospectors. After the gold rush subsided, the West Coast turned to New Zealand's black gold - coal. The country's largest coalmine, the Stockton opencast mining operation, is on a high plateau 35 kilometres north of Westport.

Westport has a great range of places to stay, from luxury accommodation for a romantic weekend getaway to motels, home stays, backpacker hostels and camp grounds for those looking for budget accommodation. Wherever you stay, you will find the locals willing to point out the best places to shop and eat. You have plenty of choices when it comes to sampling the local fare, including a number of cafés, restaurants and eateries, offering a quick bite to award-winning cuisine. There is also a Guided Heritage Walk around Westport.
Westport is steeped in history; a visit to Coaltown Museum will help you imagine life as it was for New Zealand's pioneering coal miners as you walk through a simulated underground coal mine.

Nature lovers can visit the Cape Foulwind Seal Colony, and the nearby coastal walkway offers views of the magnificent West Coast sunsets.
Westport is also known for is adventure activities of jet boating, white and black river underground rafting, adventure caving, white water kayaking and rafting and craft. The town is close to the sea with its own port facilities, so surfing is available. Besides adventure activities, Westport is also know for its crafts people, local west coast brewery and gold panning.

Westport is also a base for trips to Karamea (The Southern end of the Heaphy Track, with the only road access to the area running north from near Westport.
Westport is served by daily inter-regional and long distance coach and bus services from Westport to Nelson, Greymouth, Punakaiki, Franz Josef and Fox Glacier and by Air New Zealand Link air service from Wellington and Christchurch.

There are no passenger train services from Westport to Nelson, Greymouth, Hokitika, Franz Josef or Fox Glacier.