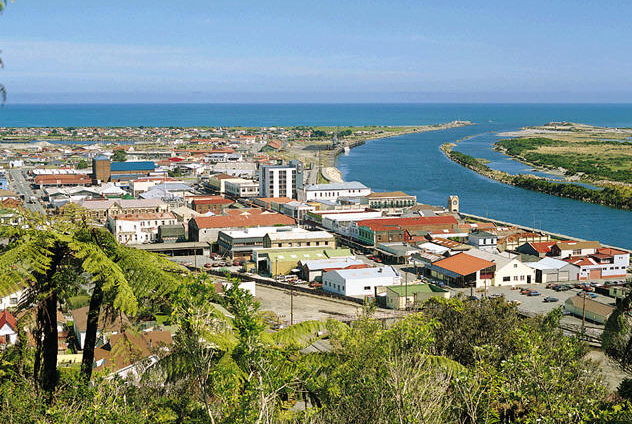 Greymouth (Pop: 9,970) is the largest town in the West Coast region on the South Island of New Zealand.

Located at the mouth of the Grey River, on a narrow coastal plain close to the foot of the Southern Alps. In clear weather, Mt Aoraki/Mount Cook can be clearly seen to the south from near the town.

Greymouth is the major town on the West Coast, boasting a range of quality hotels, motels, backpacker hostels and holiday parks with shops from small specialty and tourist shops to national chain stores. Restaurants, cafes and bars provide a hub for entertainment.
Greymouth hosts an enticing range of activities only minutes from the town centre, including the Art Gallery, History House and the walk on the flood wall which protects the town from the mighty Grey River.
The town's major industries include fishing, mining, forestry, and ecotourism, the latter two of these industries holding an uneasy relationship with each other.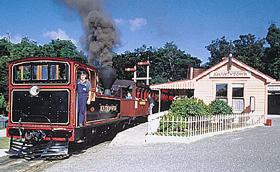 Located 10kms south of Greymouth is Shantytown, widely recognised as one of New Zealand's leading culture and heritage attractions. With its fully operational steam bush railway and over 30 historic buildings makes up a recreated 19th Century pioneer town, inspired by the West Coast gold rushes of the 1860s. Its peaceful setting amongst regenerating native forest gives visitors the opportunity to step back in time, experience a range of activities and view fascinating relics from days gone by.

The Pancake Rocks at Punakaiki, 45 km to the north are a popular local tourist attraction, while many also pass through on the route to or from the glaciers to the south.
Greymouth is also known for its Pounamu ("Greenstone", a form of Jade) carving industry which goes back to Māori origins. The town also has a local brewery - Monteith's who has been producing beer since 1868 and is now available countrywide.
Greymouth is a hub for daily inter-regional and long distance bus and coaches services taking visitors on tours to other destinations on the West Coast - south to Hokitika, Fox Glacier, Franz Josef, Wanaka or Queenstown or north to Punakaiki, Westport and Nelson.

There is no regular or schedule passenger air service to and from Greymouth except for small aircraft charter flights. The nearest regional airport to Greymouth is Hokitika.