Located on the west coast of New Zealand's South Island and 40 kms south of Greymouth and located near the mouth of the Hokitika River, is Hokitika with a population of 3078.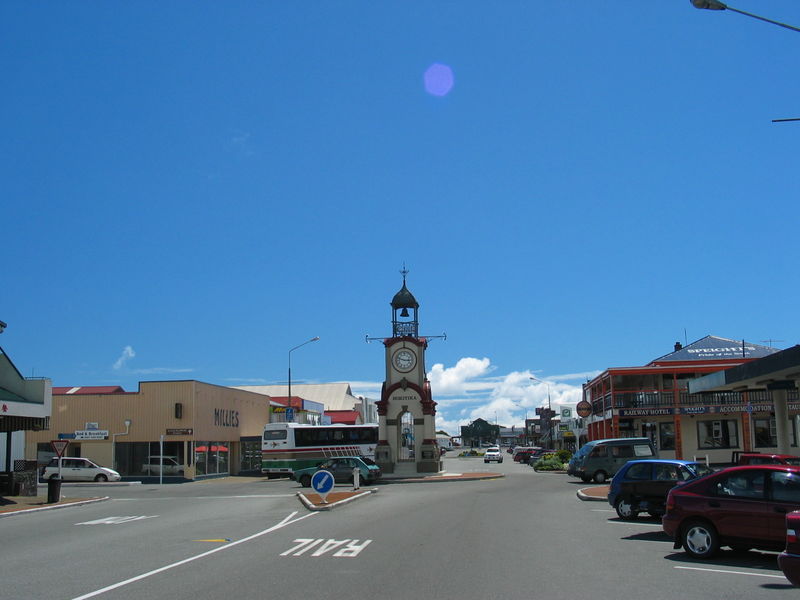 Hokitika has become a major tourist stop on the West Coast's main highway route, with carving of greenstone an important local industry.

It is also gaining a reputation for its annual wild food festival which has been running since 1990.

Hokitika is supported by forestry, tourism, farming, sphagnum moss, and gold mining industries. Excellent varieties of craft and greenstone jewellery, shopping seven days a week.

Hokitika is the last town with banking and pharmacy facilities until Wanaka.

Activities include wild foods, freshwater fishing, whitebaiting, bush walks, beach walks, kayaking, visits to Lakes Kaniere and Mahinapua, Paddle Boat Cruise, Phelps Goldmine experience with gold panning, Water World Aquarium, above ground glow-worm dell, garden visits and scenic flights and the West Coast Historical Museum.

District walks include Goldsborough, Lake Kaniere and water race, Lake Mahinapua Walk, Ross Goldfields, Hokitika Beach, Wanganui Walk Track (Harihari).

Hokitika is served by daily inter-regional and long distance coach and bus services to Fox Glacier, Franz Josef, Greymouth, Punakaiki, Westport and Nelson and Air New Zealand Link operates direct flights to and from Christchurch.

There are no passenger train service from Hokitika to Queenstown, Fox Glacier, Franz Josef Glacier, Greymouth, Westport, Nelson or Christchurch except for combined bus and TranzAlpine train travel from Hokitika to Christchurch.