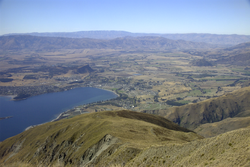 Wanaka (Pop: 5,600) is a town in the Central Otago region of the South Island of New Zealand 140kms north west of Queenstown.

It is situated at the southern end of Lake Wanaka, adjacent to the outflow of the lake to the Clutha River. It is the gateway to Mount Aspiring National Park.

The views of the Southern Alps across the gleaming water of Lake Wanaka are unparalled. Wanaka is also the gateway for the Mt Aspiring National Park.

Wanaka is primarily a resort town but has both summer and winter seasons and is based around the many outdoor opportunities.

Wanaka, with its beautiful lake and mountain views, has become a popular tourist resort, loved by many for being less commercialised than Queenstown.
Wanaka boasts a growing number of excellent restaurants, cafes and a diverse nightlife. Other attractions in the town include Puzzling World and the Paradiso Cinema. The Puzzling World contains a 3d maze, optical illusions and a leaning tower. The Paradiso is a classic old cinema, with seating consisting of old couches and a car. There are a number of wineries in the area.
A great day excursion can be had walking up neighbouring Roys Peak, from which stunning views can be seen of Wanaka and the surrounding area, including Mount Aspiring.
Wanaka is know for the famous New Zealand Fighter Pilots Museum, War Birds over Wanaka show and trout hatchery.

During the winter, Wanaka offers the broadest range of snow activity choices of any town in New Zealand. These include Treble Cone, Cardrona Alpine Resort, Snow Park and Snow Farm, some of New Zealand's premier commercial ski fields. Wanaka is the main accommodation provider for these resorts and so is very busy in high season (July-September).
Wanaka is served by daily inter-regional and long distance coach and bus services from Queenstown, Christchurch, Mt Cook, Fox and Franz Josef Glaciers.

The nearest airport for domestic and international flights to and from Wanaka is Queenstown.

There are no passenger train or rail services from Wanaka to Queenstown, Fox Glacier, Franz Josef, Greymouth, Invercargill, Dunedin, Mt Cook or Christchurch