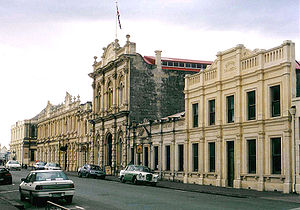 Oamaru is the district's main centre and is renowned for its attractive townscape and gardens, intact Victorian precinct and harbour, neoclassical stone buildings, and the most accessible daily contact with penguins anywhere in the country.

Oamaru has the largest collection of protected heritage buildings in New Zealand.
They were designed by the finest architects of their time and crafted from the local limestone now known worldwide as Oamaru Stone.

The harbour, reputed to be the only intact Victorian harbour in New Zealand, is home not only to an old curved wooden wharf and an assortment of traditional craftspeople, but hundreds of blue penguins that waddle ashore every night just after dark.

The Oamaru Blue Penguin Colony, a natural nesting area for the world's smallest penguin species, has been enhanced by a dedicated team of volunteers and is now an international draw card.

Grandstand seating enables visitors to get a close look at these engaging birds every night of the year. A 30-minute walk away is another penguin colony at Bushy Beach.

This is the northern-most place where the rare yellow-eyed penguin is known to nest and breed successfully.

Oamaru is served by daily bus and coach services to Christchurch, Dunedin, Timaru, Invercargill, Te Anau and Queenstown and by Air New Zealand Link air services from Christchurch

There are no passenger train services from Oamaru to Christchurch, Timaru, Dunedin, Invercargill, Mt Cook, Te Anau or Queenstown.