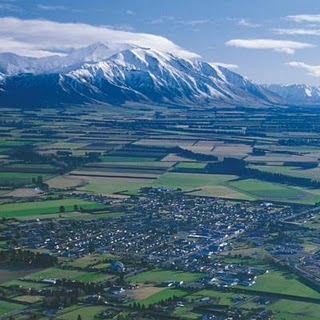 Methven (Pop: 1340) is a small town in the Canterbury region of the South Island of New Zealand.

Methven is located near the western edge of the Canterbury Plains, 35 kilometres north of Ashburton and 95kms southeast of Christchurch. Methven and the Mt Hutt skifield is a one hour drive from Christchurch.

It is a rural service town throughout the year, but undergoes a stark transformation in winter. Mount Hutt skifield is around half an hour away from Methven, being the closest town to the skifield.

Methven is a perfect summer and winter holiday destination. You can relax and unwind on an excellent country golf course, fish for salmon and trout in nearby rivers and lakes or walk one of the many bush walks within the area.

If excitement is what you are after, there is skiing, jet boating, hot air ballooning or mountain bike riding. Methven has a great range of accommodation, restaurants and cafes.

As such, a number of cafes, bars, and restaurants lie relatively dormant over the summer months. Similarly, the town's accommodation providers have a strongly seasonal trade.

The Mt Hutt skifield offers world class skiing and snowboarding facilities and tracks.

In addition to skiing and snowboarding, another popular attraction is hot air ballooning.
Methven is served by regular daily coach and bus services to and from Christchurch.

The nearest airport to Methven for domestic and international air services is Christchurch.

There are no passenger train services from Methven to Christchurch, Dunedin, Mt Cook or Queenstown.