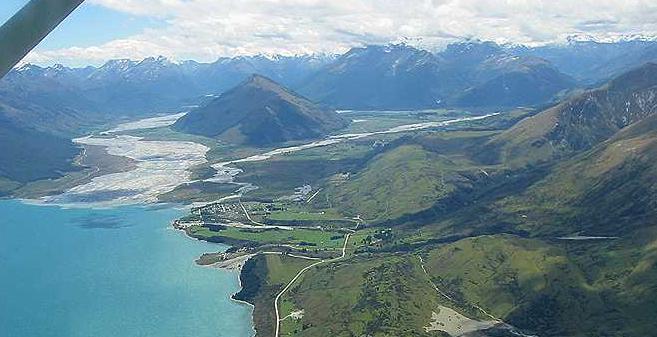 Glenorchy is a small town that is the arrival or departure point for the Routeburn Track, located at the end of Lake Wakatipu, approx 50 minutes drive from Queenstown.
At the Head of Lake Wakatipu, Glenorchy is nestled between the Richardson (east) and Humboltd (west) Mountain Ranges and overlooked by the mighty snow capped Mount Earnslaw in the North.

Glenorchy and Kinloch were originally known as the meeting or resting places by early Maori who would make their hazardous journey from the west coast to the Head of Lake Wakatipu in search of the unique grey-green greenstone or pounamu, only found in the Dart and Routeburn Valleys.

There are many deposits of greenstone throughout New Zealand which has been of great importance to Maori since the 12th century, contributing to much of the Maori culture and development.

One of the largest unspoiled alluvial greenstone boulders in New Zealand and the largest surviving in the world is hidden within the Dart Valley, undisturbed since the Maori had last visited hundreds of years earlier.

From Glenorchy you can travel on to the Rees Valley, Paradise and the Dart Valley, Kinloch township, Routeburn Valley and Greenstone/Caples Valleys which boarder both Mount Aspiring and Fiordland National Parks. Glenorchy is your base for walking the Routeburn, Rees and Dart tracks.

The two main industries in the village of Glenorchy are farming and tourism which have enabled the town to thrive while still maintaining it's unique qualities and southern kiwi culture.

Home to approximately 200 people, Glenorchy is a welcoming and vibrant town offering a range of accommodation, cafes, restaurants, bars, shopping, activities, hiking, fishing and much much more.

Glenorchy's surrounding landscape has become a prime location for film scouts and was chosen to depict many scenes in the three award winning Lord of the Rings movies. More recently the area has featured in The Lion the Witch and the Wardrobe, Prince Caspian: The Return to Narnia, Hercules and countless adverts.

There are no passenger train services from Glenorchy to Queenstown, Te Anau, Invercargill, Dunedin, Mt Cook or Christchurch.