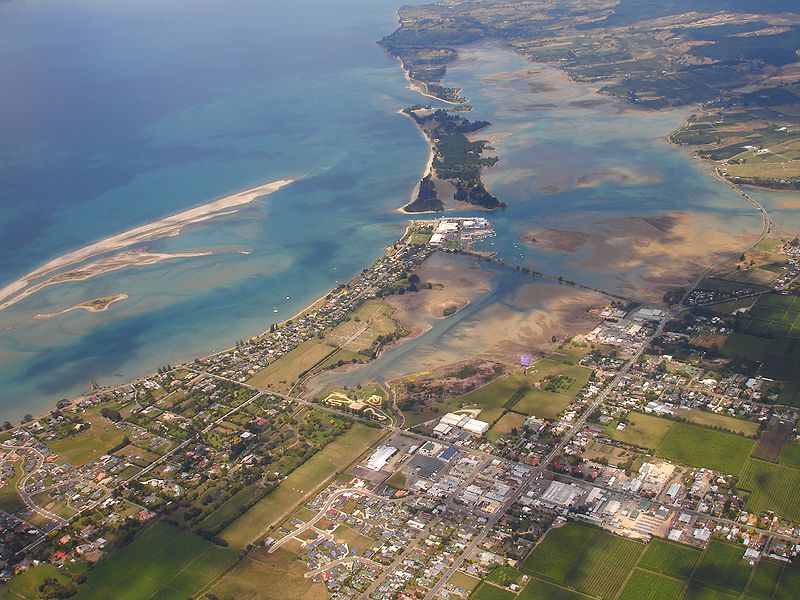 Motueka lies close to the mouth of the Motueka River, on the western shore of Tasman Bay. It is, after Nelson and Richmond, the third largest centre in the region, with a permanent population of around 6000.
The surrounding district has a number of orchards, as well as growing a variety of specialised crops such as hops, and formerly serving as the main centre of tobacco growing in New Zealand.

A number of small vineyards have developed in recent years, one (Neudorf) gaining an international reputation.
Nearby beaches (such as Kaiteriteri Beach and Marahau) are very popular with holidaymakers, and the area around Motueka has one of the country's highest annual sunshine-hour indices.

Marahau beach is the beginning of the Abel Tasman National walk way that goes to Takaka.
Motueka, as one of the nearest towns to the Abel Tasman and Kahurangi National Parks, which has become the base of many tourism ventures in those parks and in other recreational areas.

Extensive limestone cave systems (including Harwood Hole in the Takaka Hill area north of Motueka) attract cavers and rock climbers. Sea kayaking and tramping now attract many thousands of visitors each year.
Many artists live in the area around Motueka, especially potters and reggae musicians.
Motueka is served by daily coach and bus services to and from Nelson and Takaka.

The nearest major airport to Motueka, is Nelson which serviced by Air New Zealand Link providing regular air services from Auckland, Wellington and Christchurch.

There are no passenger train or rail services from Motueka to Takaka, Nelson, Blenheim, Picton or Christchurch.