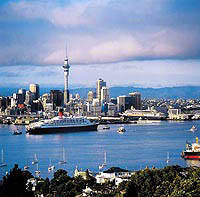 Auckland is the largest and most populous urban area in the country with a population approaching 1.4 million. Increasingly cosmopolitan, Auckland also has the largest Polynesian population of any city in the world and has seen many people of Asian ethnicity move there in the last two decades.

In Māori, the name for Auckland region is Tāmaki-makau-rau or the transliterated version of Auckland - Ākarana.

Auckland lies between the Hauraki Gulf of the Pacific Ocean to the east, the low Hunua Ranges to the south-east, the Manukau Harbour to the south-west, and the Waitakere Ranges and smaller ranges to the west and north-west. The central part of the urban area occupies a narrow isthmus between the Manukau Harbour on the Tasman Sea and the Waitemata Harbour on the Pacific Ocean.

The Auckland region is an antipasto of environments laid out on a huge platter to make one amazing city, boasting three harbours, two mountain ranges, 48 volcanic cones and more than 50 islands making one of the few cities in the world to have harbours on two separate major bodies of water.

Auckland is popularly known as the "City of Sails" because the harbour is often dotted with hundreds of yachts and has more per capita than any other city in the world.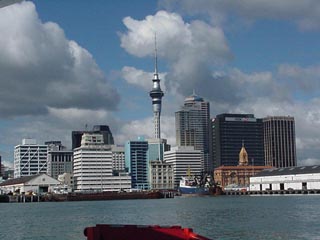 Auckland is where everyone lives within half an hour of beautiful beaches, hiking trails and a dozen enchanted holiday islands. Add a sunny climate, a background rhythm of Polynesian culture and a passion for outstanding food, wine and shopping, you are now beginning to get the picture of Auckland.

Auckland's blend of the South Pacific Islands, with Polynesian culture, glistening harbours and modern city environment including High Street, Queen Street, Ponsonby Road, and Karangahape Road are very popular with urban socialites.

Newmarket and Parnell are up-market shopping areas and the Viaduct Basin where the two America's Cup challenges (2000 Cup and 2003 Cup) where hosted.

Many national treasures are displayed at the Auckland Art Gallery, while many other significant cultural artefacts reside at the Auckland War Memorial Museum, the National Maritime Museum, or the Museum of Transport and Technology (MOTAT). Exotic creatures can be observed at the Auckland Zoo and Kelly Tarlton's Underwater World. Movies and rock concerts (notably, the "Big Day Out") are also well patronised.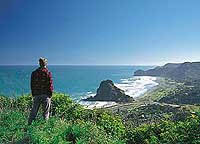 Close to Auckland are beautiful beaches, forests, surf and seclusion. With the sheltered Waitemata Harbour at its doorstep, Auckland sees many nautical events, and there are also a large number of sailing clubs in Auckland, as well as Westhaven Marina, the largest of the Southern Hemisphere.

Beyond the harbour are the many islands of the gulf, most accessible on a day tour and some offering overnight accommodation.

Auckland is the major gateway for international air travel into New Zealand through Auckland International Airport used by Air New Zealand, Qantas, Pacific Blue, Jet Star, Singapore Airlines, Emirates, Air Pacific, Korean Airlines, etc.

Auckland International Airport is also a major hub for Air New Zealand National and Jet Star domestic air services to Wellington, Christchurch, Dunedin and Queenstown and Air New Zealand Link air services to major regional centres through out New Zealand.

Auckland is the northern terminal for the Northern Explorer train that operates to and from Wellington, Palmerston North, Hamilton, Tongariro National Park, Ohakune and Hamilton and a major hub for inter-regional and long distance bus, coach and scenic coach services to and from Christchurch, Dunedin, Queenstown, Paihia/Bay of Islands, Hamilton, Rotorua, Tauranga, Gisborne, Napier, Hastings, New Plymouth, Taupo, Ohakune (Turoa Skifeld), National Park (Tongariro Crossing and Whakapapa village and skifield), Palmerston North and Wellington.

There are combined ferry and bus services from Auckland to Blenheim, Auckland to Christchurch, Auckland to Kaikoura and Auckland to Nelson.

There are no passenger train or rail services from Auckland to Whangarei, Paihia (Bays of Islands), Kaitaia, Kerikeri, Waitomo Caves, Tauranga, Rotorua, Taupo, Napier, Hastings or Gisborne.