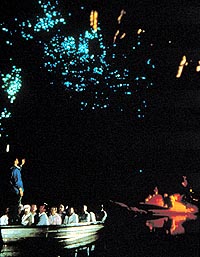 Waitomo Caves are a village and cave system forming a major tourist attraction in the southern Waikato region of the North Island of New Zealand, 12 kilometres northwest of Te Kuiti.

The community of Waitomo Caves itself is very small, though the village has many temporary service workers living there as well.

The word Waitomo comes from the Māori language wai meaning water and tomo meaning a doline or sinkhole; it can thus be translated to be water passing through a hole. These Caves are believed to be over two million years old.

Several of the hundreds of limestone caves in the district are sites for adventure activities, including abseiling into caverns, floating through on inner tubes, or guided walks or boat trips through spectacular formations or glow-worm caves.

In addition to sightseeing at Waitomo, there is the popular Museum of Caves which operates the Visitor Information Centre.

Near the picturesque village there is a walkway, the Ruakuri Bushwalk, which passes through three short caves and features unusual limestone formations. There is also a pioneer farm show and horse trekking. Jet boats and four-wheel-drive motorbikes may be hired.
Waitomo Caves is served by major coach and bus operators operating regular daily services.

There are no air services to or from Waitomo Caves. Nearest airport for regular domestic air services is either Auckland, Hamilton or Rotorua.
There are no passenger train services from Waitomo Caves to Auckland, Hamilton, Rotorua, Tauranga or Wellington.

The nearest railway station to Waitomo Caves is Otorohanga which is 30 minutes by road. There are no passenger train services to or from Waitomo Caves.