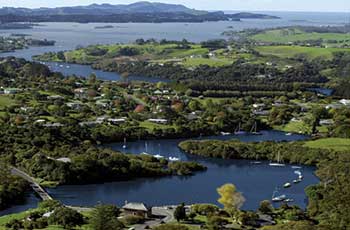 Kerikeri (Pop 7110) is the largest town in the Bay of Islands on the North Island of New Zealand, is a popular tourist destination about three hours drive north of Auckland, and 80 km north of Whangarei.

It is often described as the Cradle Of The Nation, being the site of the first permanent mission station in the country and it has some of the most historic buildings in New Zealand.
A rapidly expanding centre of sub-tropical and allied horticulture, Kerikeri lies at the western extremity of the Kerikeri Inlet, a north western arm of the Bay of Islands, where fresh water of the Kerikeri River enters the salty Pacific Ocean.

Kerikeri has a long, colourful history. The region's oldest historic site is Koropiro Pa, but Kerikeri is also home to two precious colonial buildings. Kemp House (the Kerikeri Mission Station), New Zealand's oldest standing European building, was built in 1821 to house the Reverend John Butler. It contains a fascinating collection of furniture and household items owned by the succession of missionary families who lived there.

Right next door is the oldest stone building in New Zealand, the Stone Store, originally constructed to hold mission supplies but used mainly as a Kauri gum trading post. It still operates as a retail store, though now it sells 'Kiwiana' products. A trip to nearby Rewa's Village will reveal a mock-up of a pre-European Maori village.

Kerikeri has a thriving retail economy with two large supermarkets and many small retailers and a range of cafes and restaurants offering foods from around the world.
Kerikeri was the first place in New Zealand where grape vines were planted and the plough was first used in New Zealand at Kerikeri, by Rev. J. G. Butler in 1820.

Kerikeri is served by regular daily various bus and coach services to and from Auckland, Kaitaia, Paihia and Whangarei and by Air New Zealand Link with regular daily air services to and from Auckland.

There are no passenger train services from Kerikeri to Paihia, Kaitaia, Whangarei or Auckland.