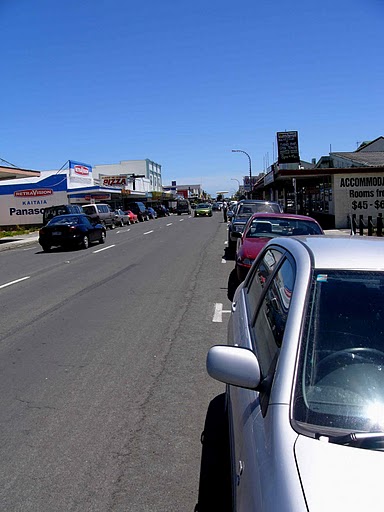 Kaitaia (Pop: 5202) is a town in the far north region of New Zealand, at the base of the Aupouri Peninsula which is about 160km northwest of Whangarei and 330 kms north of Auckland.

It is the last major settlement on the main road north to the capes and bays on the peninsula. Ahipara Bay, the southernmost part of Ninety Mile Beach, is five kilometres west of the town.

Kaitaia is a a farming town, it busily supports sheep farming, cattle and dairy farming, vineyards and fruit growing - especially avocados - as well as extensive supply industries.

Kaitaia's tradition of well established, old businesses is well known and the town is enriched with many old established families.

Alongside good shopping, cafes and restaurants, Kaitaia has an indoor sports centre, facilities for bowls, golf, tennis & squash, a shooting range, a fine public library and a choice of schools.
Sailing, surfing, surf casting at the breathtaking Ninety Mile Beach, diving and fishing, including the discipline of deep sea fishing - all are popular in the North. Regardless of the weather there is always a coast good for fishing – and the region possesses one of the most notable left hand surf breaks in the world.
Kaitaia and surrounding areas are home to many skilled craftspeople working in wood, pottery, paint, glass, ceramics, flax, bone, and greenstone. Like most rural towns in New Zealand. Kaitaia has its very own annual Agricultural & Pastoral Show, well over a hundred years old and one of the oldest in New Zealand, a time when the community traditionally gathers to enjoy itself.

From Kaitaia there is a range of tours for Cape Reinga via the 90 Mile Beach, gum field tours and Maori Culture tours.

Kaitaia has a oceanic, subtropical climate being the warmest place in New Zealand

Kaitaia is served by daily inter-regional and long distance coach and bus services providing regular daily services from Auckland, Paihia, Kerikeri and Whangarei and Air New Zealand Link regular air services from Auckland.

There are no passenger train services from Kaitaia to Kerikeri, Paihia, Whangarei or Auckland.