Known for being the winterless north, the Bay of Islands is known for the world famous Hole in the Rock, big game fishing, diving, sailing to name a few of the many attractions and activities that are available in the region.

Located 240 kms north of Auckland, the Bay of Islands is an drowned valley system and a natural harbour, containing 144 islands, of which the largest is Urupukapuka and numerous peninsulas and inlets. The bay itself is an irregular 16 km-wide inlet in the north-eastern coast of the island.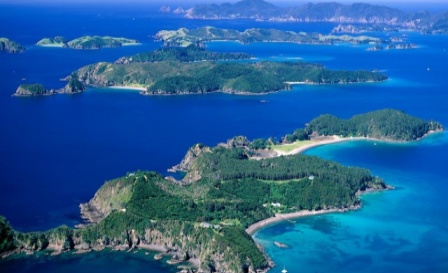 As a natural harbour, it has several arms which extend into the land, notably Waikare Inlet in the south and Kerikeri and Te Puna (Mangonui) inlets in the north-west.

The Bay of Islands was first settled about 700 years ago, by Māori, who settled throughout the bay and on several of its many islands to establish various tribes such as the Ngāti Miru at Kerikeri.

Many of the Māori settlements later played important roles in the development of New Zealand, such as Okiato (first European settlement), Waitangi (where the Treaty of Waitangi would later be signed) and Kerikeri, (which was an important departure point for inland Māori going to sea and the site of the first permanent European mission station in the country).

The Bay of Islands was the first centre of early European settlement in New Zealand, with Russell being the first capital city of New Zealand. The bay has many interesting historic towns including Paihia, Russell, Waitangi and Kerikeri. Russell, formerly known as Kororareka, was the first permanent European settlement in New Zealand, and dates from the early 19th century.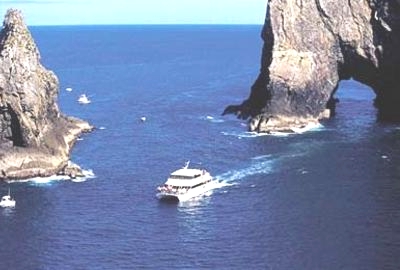 Kerikeri, being the largest town in the area, contains many historic sites from the earliest European colonial settlement in the country. These include the Mission House, also called Kemp House, which is the oldest wooden structure still standing in New Zealand.

The Stone Store, a former storehouse, is the oldest stone building in New Zealand, where construction begun on 19 April 1832. The small town of Russell is located at the end of a short peninsula that extends into the bay from the southeast.

The main tourist town is Paihia, with other towns of Kerikeri and Russell located close by.

There are various coach and bus operators providing regular daily services to the Bay of Islands region from Auckland. Air New Zealand Link provides regular daily air services to Kerikeri from Auckland.

There are no passenger train or rail services to or from the Bay of Islands