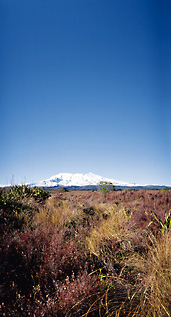 National Park is a small village on the central plateau of the North Island of New Zealand and Located 100kms southwest of Taupo and 150kms northeast from Wanganui and is the highest urban township in New Zealand at 825metres.

As the name suggests, it borders the World Heritage Tongariro National Park, New Zealand's first national park created in 1887. To the West is the Whanganui National Park. The village has great views of Mt Tongariro, Mt Ngauruhoe (Mt Doom in the Lord of the Rings films) and Mt Ruapehu.

National Park village services accommodation needs of the Tongariro National Park area and is sited next to the North Island Main Trunk railway line between Auckland and Wellington and close to the junction of State Highways 4 and 47 - halfway between Raetihi and Taumarunui and 45 kilometres southwest of the southern shore of Lake Taupo. It is 20 minutes drive to the country's biggest skifields - Whakapapa and 50 minutes drive to Turoa on the slopes of the active volcano - Mount Ruapehu one of the three volcancoes located on the North Island's central volcanic plateau.
Whakapapa village located on the lower slopes of Mt Ruapehu, is the departure point for regular shuttle bus services to the Whakapapa skifield. Located 15 minutes by road from National Park village, Whakapapa village has the famous Bayview Chateau Tongariro and Skotel resort hotels.
Close to National village Park is the Okapata Caves and the Traverse 42 - a popular mountain bike trail. There are many excellent trout fishing spots and 4WD bike trails.

In the summer national Park village is a popular base for Tongariro and Whanganui National Parks for hiking, biking and kayaking. National Park Village. Transport leaves daily (weather permitting) for the Tongariro Alpine Crossing - known as the best one day alpine trek in New Zealand.

In winter, National Park is the ski base for Whakapapa skifield located on the north western of Mt Ruapehu. Whakapapa skifield is a self service ski facility meeting FIS criteria for skiing and snowboarding. Whakapapa skifield is one of two skifields in New Zealand where you can ski or snowboard outside New Zealand's official ski season.

National Park is served by daily inter-regional and long distance coach and bus services to and from Auckland, Hamilton, Rotorua, Wanganui, Palmerston North or Wellington and passenger train services to and from Wellington, Palmerston North, Ohakune, Hamilton and Auckland.

There is no schedule passenger air services to or from National Park. The nearest regional airports to National Park are Taupo or Whanganui. Nearest international airports to National Park are located in Auckland and Wellington.