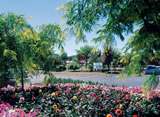 Turangi (Pop: 3,500) is a town on the west bank of the Tongariro River, 50 kilometres south-west of Taupo on the North Island Volcanic Plateau of New Zealand.
It was built to accommodate the workers associated with the Tongariro hydro-electric power development project and their families.

The town was designed to remain as a small servicing centre for the exotic forest plantations south of Lake Taupo and for tourists. It is well known for its trout fishing.

Built on the banks of the Tongariro River, Turangi and its surrounding countryside offers challenging hunting, fishing, mountain biking, hiking or leisurely bush walks, white water rafting, kayaking, sight seeing and much more
Located in the heart of the central plateau, Turangi is one of the best bases in the region for the variety of activities Mt Ruapehu and the surrounding area has to offer.
Being positioned on the head of the Tongariro River, Turangi is renowned worldwide for it's trout fishing, with the National Trout Centre located a small drive from the town.
Turangi is also a great base for skiing, being central to all local skifields on Mt Ruapehu

There are regular daily coach and bus services from Turangi to most North Island destinations.
There are no schedule passenger air services to or from Turangi. The nearest regional airport to Turangi is Taupo.

There are no passenger train or rail services from Turangi to Auckland, Hamilton, Tauranga, Rotorua, Taupo, Gisborne, Napier/Hastings, New Plymouth, Whanganui, Palmerston North or Wellington.