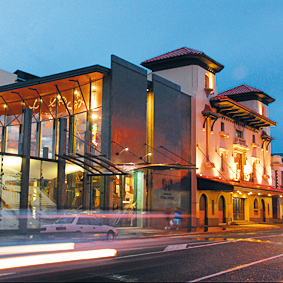 Hastings city is a major urban settlement in the Hawke's Bay Region of the North Island of New Zealand, and the administrative centre of the Hastings District.

Hastings is located some 20 km inland from the neighbouring port city of Napier.

Located 15 kms from Napier, Hastings and the surrounding district is a part of the Hawke's Bay region, which is located on the East Coast of the North Island.

The natural assets of the area allow varied year-round activities, which include surf beaches, rivers, lakes and native forest.

Hasting city has a superb blend of historic Spanish Mission architecture and avant garde art and sculpture adorning the expansive piazzas.

Bustling but never too hectic and is very welcoming of tourists. There is always time to soak up the Hawke's Bay sunshine and add to this, wineries on the plains.

The Hawke's Bay Opera House, Splash Planet theme park, entertainment, shopping café experiences, beautiful coastal beaches, notably Ocean Beach and Waimarama Beach and is a fantastic destination to live, work, play and visit!

Hastings are served by daily inter-regional and long distance coach and bus services to and from Auckland, Hamilton, Rotorua, Taupo, Gisborne, Napier, Palmerston North and Wellington.

Air New Zealand Link operates air services to and from Napier to Christchurch, Wellington, Christchurch and Auckland.

There are no passenger train or rail services to or from Hastings to Gisborne, Napier, Taupo, Auckland, Palmerston North or Wellington.