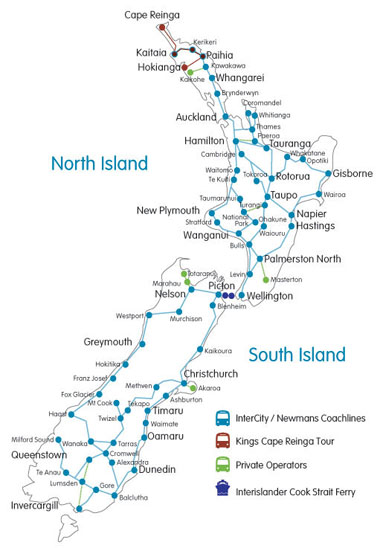 Explore New Zealand's North Island with its 7 unique geographical regions and diverse natural beauty, from soaring mountain peaks, fiords, lakes, rivers, native rugged bush, the majestic volcanoes of the North Island's central plateau to the central North Island skifields of Whakapapa and Turoa by bus and coach from Wellington by clicking on the destination you would like to travel too on the left or on the route map located on the right.

With the national travel networks of InterCity Coachlines, Great Sights, and Mana/Naked Bus operating over 80 daily services, you can travel to over 300 towns, cities, skifields and major tourist destinations in the North Island.

With fares starting from NZ$1.00 - travelling on InterCity Coachlines and Naked Bus bus national travel networks is an affordable way to see the North Island's unique scenic beauty.

Major coach and bus operators like InterCity Coachlines and Naked Bus operate frequent daily regional and long distance bus and coach services in both the North and South Island, with some bus and coach services connecting with Cook Strait ferry services operating between Wellington and Picton crossing Cook Strait separating the North and South Islands.

InterCity Coachlines operates a modern fleet of buses and coaches that are eco-friendly, air-conditioned and have reclining seats with foot and head rests with some long distance coaches having onboard toilet/washroom facilities. InterCity Coachlines regional bus services do not have onboard toilet/washroom facilities.

All long distance and regional bus and coach services do stop regularly for comfort and refreshment breaks.

InterCity Coachlines Starlighter overnight bus service from Wellington to Palmerston North, Taupo, Rotorua, Hamilton and Auckland connects with Cook Strait ferry services operating from Picton in the South Island to Wellington in the North Island.

The Starlighter overnight bus service features reclining seats with foot and head rests, individual reading lights and air conditioning controls, onboard toilet/washroom facility and makes two refreshment/comfort stops on route.

InterCity Coachlines Wellington to Auckland daytime and Starlighter overnight coach services have GOLD seats - soft leather reclining chairs on the lower deck of the double decker coaches, complete with individual USB charging ports and free WiFi. These seats provide plenty of room to stretch your legs. The best thing is, they don't cost a lot more than the regular fare! Simply lie back and relax – plug in your USB, log on to the WiFi

With InterCity Coachlines FareFinder online seat availability, fare and reservation system, you can search for departure times, fares and make instant confirmation reservations for all InterCity Coachlines regional and long distance services throughout New Zealand.

You can travel on the famous TranzAlpine train from Christchurch to Greymouth, Nelson Westport, Punakaiki, Hokitika, Franz Josef, Fox Glacier, Wanaka and Queenstown.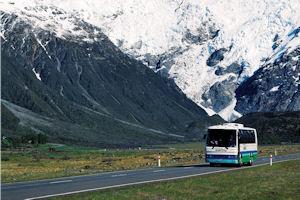 Combined bus and ferry travel can be made from Wellington to Christchurch, Picton, Blenheim, Kaikoura or Nelson that includes both bus and ferry travel in one fare and ticket.

If you want to explore and see New Zealand's unique scenic beauty, there are a range of 'Book As You Go' flexi bus and ferry passes giving value for money travel.

You can use your 'Book As You Go' flexi bus and ferry pass, to travel through out New Zealand on New Zealand's largest regional and national bus, coach, scenic coach, ferry and sightseeing network, that includes Cook Strait ferry sailings between the North and South Islands, sightseeing tours - like dolphin watching cruises in the Bay of Islands and lots more.

Travel is discounted, so you will be saving money, as you travel plus it gives you total freedom to alter your plans whenever you want.

Set your own itinerary and travel when you want, as your 'Book As You Go' flexi bus and ferry pass is valid for 12 months so you can stay a while then leave when you please.